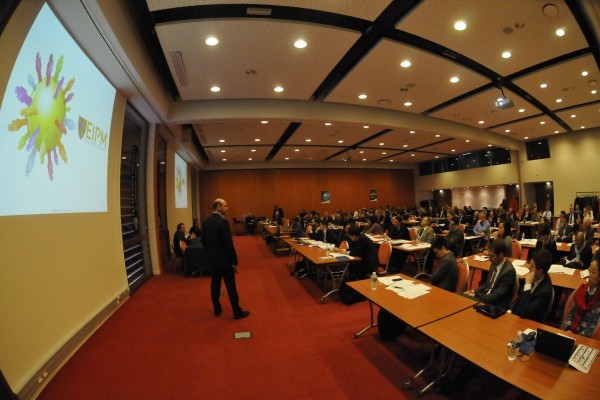 About the EIPM Annual Purchasing Conference
Throughout the editions, the EIPM Conference has earned the reputation of a must-go meeting point for Purchasing & Supply Management professionals from a wide spectrum of sectors.
For more than two decades, the EIPM Annual Conference has been promoting critical thinking through a series of discussions focused on Purchasing Excellence, Talent Management, Innovation and Value Creation along with many other topics.
Two days of intense exchanges
Participants from a wide spectrum of industrial and service corporations worldwide
Presentations, workshops, case studies and debates
Three complementary perspectives: practitioners, academics and consultants
Additional Sessions during the Conference
Training and Development Workshop
This specialised, free of charge workshop is higly recommended for CPOs and those in charge of Talent Development for Purchasing and Supply Chain. Presentations focus on People Development, Purchasing Training and Procurement Academy.
CPO Breakfast
The CPO Breakfast is a gathering of Purchasing and Supply Chain Executives held during the Conference as a parallel session. This is an opportunity for Purchasing Executives to meet and exchange with peers in a private and welcoming atmosphere.
What they say about the EIPM Conference
EIPM is pivot point for procurement perfection. The only lace where you can share best practices loud and clearly.EIPM simple push us to be up to date and better procurement organisation by creating our own way or just follow the best in class.

The latest best practices are good examples. The EIPM knowledge is state of the art to me and my job. Annual Conference at sharing would be valuable to our senior managers.

EIPM is since years on the top of the procurement trends. This creates high value for CPO's striving for excellence.

The EIPM Annual Conference inspired me and my team to re-engineer procurement systems in the OMK. Since 2014 I annually take part in this event, that represents a source of best practices and business ideas for procurement.

The strength of the EIPM is that it is really focused on Procurement related topics and we have opportunities to share information with other big companies.

A lot of diverse points of view and a nice place to exchange ideas on what is coming next.

Top-notch speeches and presentations are very inspirational.

The EIPM Peter Kraljic Award is an incredible recognition of the work we did over past years and a great encouragement on the progress that we are making.

EIPM brings experts in Purchasing & Supply Chain Management from all over the world together, which is a great opportunity and chance for exchange, networking, getting inspiration from outside.