Using Personas and User Journey to power Request for Solution
Many Buyers are looking for effective ways of sourcing innovative solutions. Discussion on innovation best practices often focuses on complex high-tech cases that require long, uncertainty-reduction projects where early involvement enables anticipation of a myriad of opportunities and risks. However, in fast-changing markets, we can also benefit from innovative solutions immediately available on the market. In such projects, the main challenge is to find the best fit between your internal problems and the external solution.
Today I would like to provide an overview of how you can use Personas and User Journey to power your Request for Solution.  The term Request for Solution is great way of saying that we will share our problems, so potential suppliers can focus on showing how they will help us do so. In such a request, you provide a high-level description of your problem, usage, needs and constraints and then the potential suppliers can suggest solutions and prices. This is a great way to offer them some freedom so they can suggest innovative options.
One of the challenges is to describe these problems, needs and constraints. This is where Personas and User Journey come into play.
Personas describe the users of a product or service; they help suppliers empathise with what is important for the users. The persona is imaginary, but it personifies the real-life attributes of users. It helps the supplier seize the main traits, ambitions and issues of the group of users that could use their solution.  Here is an example of a persona. I have created a fictitious example for a company looking into creating a purchasing academy. This is one persona amongst the 4 or 5 that would be needed for such a case.
The User Journey goes one step beyond by describing how the user interacts with the expected solution. For each persona, the user journey is broken into stages that describe their experience of the solution. A few elements are provided for each stage. This can include activities performed by users, questions they may have, short descriptions of what makes users happy or anxious, the "pains" they would like to get rid of and "gains" they would like to benefit from. All this should be written in the language of the user. This is not a specification.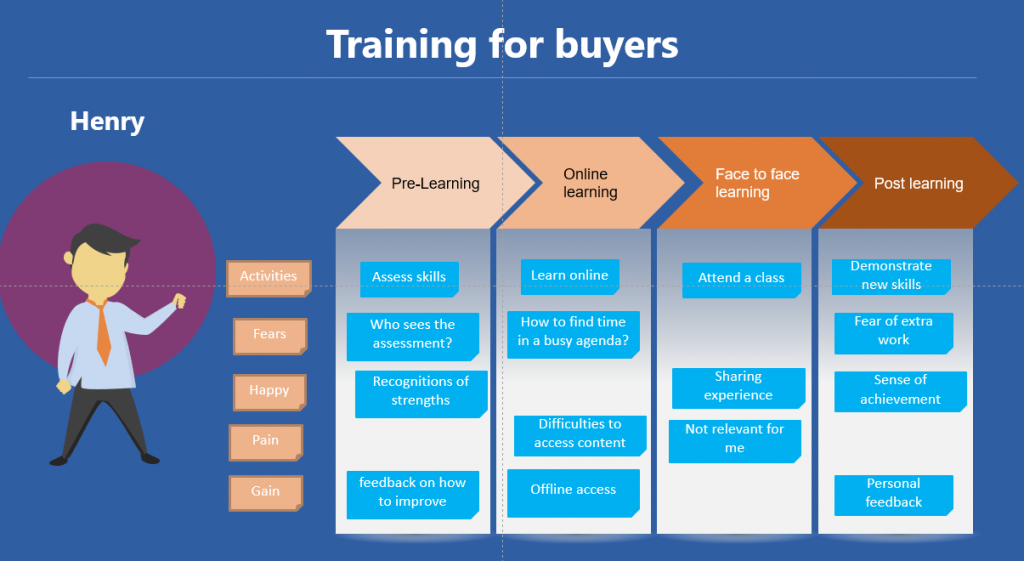 The best way to develop a persona or a user is through workshops and interviews with real potential users. During workshops you can ask some key questions and participants can provide their personal answers using sticky notes for instance. Interviews can build on similar questions but individually administered. Interviews can be great to allow people to express their issues, problems and frustrations. Workshops are great to gather a lot of information in a short amount of time.
Personas and User Journey are sent or shared as high-level requirements and problems that can be used in a Request for solution. Instead of defining detailed specifications, Personas and User Journey are a great way of conveying what you need to your potential suppliers. This offers them the freedom to suggest some innovation or to adapt their standard offerings to you.
Sometimes you can go even further. I have coached a buyer in charge of recruitment agencies. The company was facing some difficulties to recruit people. We started to frame the problem by looking well beyond the recruitment agencies, the buyer developed personas to understand "Who are the typical candidates?" and then the buyer mapped the full candidate journey from beginning to end. This led to identify new opportunities to improve the recruitment process from beginning to end, well beyond the sole support provided by the recruitment agency.
As a summary, Personas and User Journey are great ways to share needs with suppliers and to allow them to suggest innovative solution. This is best fitted for situations where the market can offer some innovative solutions that you might be already aware of.
Dare to try? Keep us updated!
Join the discussion! Share your views on my post on LinkedIn!