The New Purchasing Organisational Landscape
By Hervé Legenvre, PhD EIPM
In 2016 EIPM started to investigate how purchasing organisations need to evolve to best respond to the current business transformations caused by the Internet Of Things, Digitalisation, Sustainability, etc.
In this context, we need adaptability. One-size-fits-all approaches are irrelevant. We need different ways of working to address different situations and we should be able to move swiftly from one to another.
Through a series of Roundtables and Conferences we have worked with practitioners and developed a new framework that puts the speed of change happening or expected on the Demand side and the Supply side at the heart of the analysis.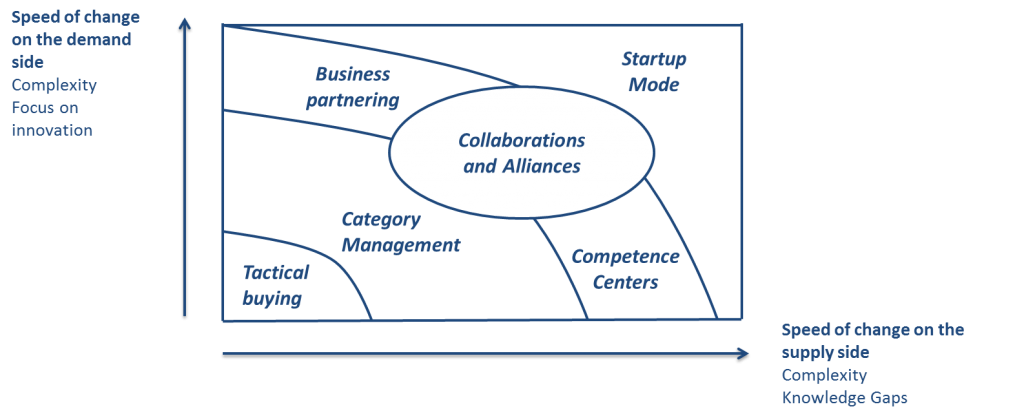 We have further defined each of the organisational building blocks, describing their role and responsibilities as well as their main focus area:
Tactical Purchasing Teams
Typically shared service centres operating systematic processes to source standard offerings.
The focus is on ensuring that prices and transaction costs are minimal.
Category Management Teams
Teams within a central position who consolidate the needs on the demand side and who look for standard offerings on the supply side.
The focus is on generating savings for their company by increasing the company leverage.
Business Partnering
An extension of Category Management, in which teams who nourish strong relationships with business partners can respond to diverse and fast changing requirements.
Focus is on value for money.
Competence Centres
An extension of Category Management, in which experts in specific technology and fast changing markets advise the business on how their needs can be timely fulfilled.
The focus is on value for money.
Collaboration and alliance
Individuals who facilitate cross company collaborations and manage relationships with strategic suppliers.
The focus is on finding the right balance between innovation – operational performance, cost, and risks.
Startup Mode
Purchasing professionals are involved in autonomous innovation projects and operate rapid loops of development and validation.
The focus is on time, innovation and final user satisfaction.
A Purchasing team can work across a few of these organisational building blocks. For each of them, different ways of working need to be used and individuals need to move with agility from one block to another.
We have already used this framework to explore specific situations with questions such as:
What is our value proposition as a purchasing team?
What is the role of the business? What is the role of purchasing?
How do you manage the relationships with internal partners?
How do you manage the relationships with suppliers?
What are the Key processes and systems we need?
How can we measure our performance?
What skills do we need? How do we manage people?
The outcomes and discussions have been very interesting. This really helps to shed some light on the diversity of practices we need to master in the current economic environment. It also showed us that the mind-sets and ways of thinking are evolving.
In 2017, we will continue to further develop this framework and show how it can be concretely implemented. Join us in this adventure! We are looking for pilots and testimonies.