Procurement goes design thinking
I have been teaching Design Thinking to buyers as part of my innovation class for a few years now. I always conclude my sessions by emphasising that, when you look for innovative solutions, Design Thinking can easily be used as a procurement process.
Design Thinking is often described as a human-centred, exploratory and iterative approach of innovation. We can look at this in more detail:
Design Thinking is human centred. Design Thinking encourages innovators to bring people in a convivial environment and to demonstrate empathy towards them, so they can share their experience and express freely what is truly important for them. Design Thinking focuses on expressing user needs as stories and pain points.
Design Thinking is exploratory. Instead of coming up with a single solution and then spending ages making it work, Design Thinking encourages innovators to come up with multiple solutions. These can be sketches or prototypes that help gather further views and feedback from users. Prototypes used with the right mindset are a great way to learn. They help to come up with valid solutions, both from a value and a cost perspective.
Design Thinking is iterative. When you innovate, the prototypes will not be perfect. To innovate you need to go through a series of loops. By rapidly creating sketches and prototypes, hypotheses can be quickly validated or discarded. And then you can you loop till the best solution is found.
I typically use the following image to draw a parallel between Procurement and Design Thinking.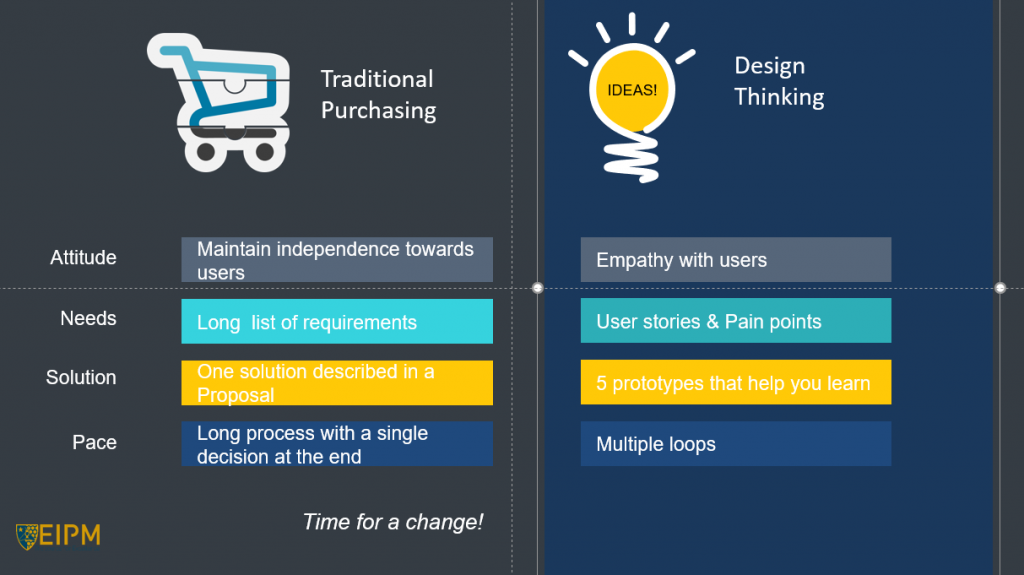 So if you are interested to power your procurement process with Design Thinking the following suggestions outlined underneath could help you:
Step 1: Needs analysis. Instead of working with long lists of technical requirements, solutions need to be derived from Stories and Pain Points. There are plenty of ways to do this. Typically, Users can be interviewed or involved in workshops where they feel comfortable to share their views and express what matters to them.
Ideally you would bring potential suppliers so they can talk to users directly and hear straight from the horse's mouth what users care for. You need the right mindset, attitude and confidence on both sides to do this. There are a lot of benefits in operating this way during the tender phase, but some could see this as a risky move. Therefore, you can also document the stories and share all of them with the potential supplier.
To do this you need to provide different profiles of users which can include their role and background. Then for each of them you can express their needs as user stories. This is done by outlining for the different users' WHAT outcome is needed and WHY it is needed.  The following format can be used to do this:
As a < who is the user? >, I want to < what goals this user wants to achieve? > so that < why this is important to the user >.
Step 2: Development of solutions. Instead of asking suppliers to come up with one solution fully described within a lengthy written proposal, you can ask them for options based on user stories provided. Such options can be described using sketches and prototypes. By doing this you will have opportunities to both understand the capabilities of the potential suppliers and you will have some unique opportunities to refine your own expectation of what success can look like. Such a process needs to remain simple, engaging and fast. You could for instance remotely share user stories in the morning and look at a first set of prototypes at the end of the day. You can also give a full week to the supplier, but It is essential to maintain a good pace so everyone is kept engaged.
Step 3: Loop rapidly till you have something of value: As you aim to learn rapidly instead of seeking first time perfection, you will go through multiple iterations. Such loops enable progressive refinement of the solution that will fit your expectations best. I often describe this as the gardener's way of doing things: You plant multiple seeds; you see how they grow and then you pick the ones that really provide the best value for money.  By doing this, you will be moving swiftly towards implementation as a lot of learning has already taken place.
So to conclude, Design Thinking can really power the procurement process and help generate more innovation out of suppliers' capabilities. There is no single recipe on how to do this. And of course, this cannot be applied to everything. In any case, as you experiment with this, you need to translate the key principles of Design Thinking into something that works for your situation. But it must be human centred, exploratory and iterative. There is no shortcut.
I have seen companies moving in this direction over the past years. It has been very interesting to observe the evolution. And I would be glad to see more cases. So, don't hesitate to contact me if you have accomplished something similar.
Join the discussion! Share your views on my post on LinkedIn!