Four Ways of Structuring Innovation Activities in Purchasing

by Hervé Legenvre, PhD EIPM

I am increasingly asked about the impact of innovation procurement of Purchasing organisation structures. This requires dedicating resources to this. This can be done through different means. I will take you through the four most common setups I have seen. They make the difference between leaders and followers today
1/ Imbedded in Existing Teams
Here innovation is part of the value proposition of any purchasing team inside the company. It can be a Category team or a B.U. Purchasing team or another setup. This way, every team can and should contribute to innovation. Such teams require freedom to explore new ways of doing things, they need some autonomy. They should be able to adopt the right practices that match the situation. Some people might be more inclined to do this than others, but in the end, it is a part of the contribution of the team to the business performance. Ideally you would expect this in any Purchasing organisation.
2/ Distributed
Distributed means that you can ask people across the whole company to take time out of their daily job to help you on a project, for a few hours, a few days or maybe even. This can be key as they have the unique expertise that can help you solve a problem. For instance, you are dealing with a supplier that uses technologies or business models unfamiliar to you, therefore you should be able to obtain help from people across the organisation who have the necessary experience. This can be accomplished informally to an extent; communication tools can rapidly help to find the right person through the human network. Some companies have made it more formal and use knowledge management tools such as a peer assist process. This works best in fast changing or knowledge intensive industries. But every Purchasing organisation should aspire to achieve some of this.
3/ Separate Team
We have started to see innovation teams in Purchasing. Here I am not talking about people in a central position in charge of helping teams with innovation related projects. A Separate team in this case means a group of people dedicated to a specific innovation requirement. This could be a team handling relationship with companies from outside of the industry in an automotive company. Alternatively, it could be a team handling relationship with start-ups. Separate teams can be established on an ad hoc basis because the unfamiliar suppliers need to be approached differently than traditional suppliers. In a way they help protect the supplier from the classic process that could hinder establishing a good relationship. Separate teams are not needed in all Purchasing organisations. But when they exist, they can really help with doing things differently.
4/Temporary Initiative
This is best described by a person who is given a special project for 4 to 18 months. Often innovation does not follow the classic segmentation you have established. Innovation can be about creating new linkages across categories. Manufacturing 4.0. combines production equipment, software and services for instance. Here you appoint one person in charge of such a project. They act as a single point of contact for the business and lead on the relationship with innovative suppliers. They support company decision making in any way relevant from Make vs Buy analysis to operational activities. Later this can sometimes be transformed into a new category or a specific team. As soon as you are evolving in an innovative industry, you need to do this when relevant. It will be necessary to remove some people from a classic job to give them such a temporary project. It is also a great way to offer some people an interesting assignment from a career evolution point of view. In this setup you will be obliged each year to take some of your talent out of their existing job so they can start such a project
The following figure helps you to match the four modes with some situations. This is a guide for decision making, not a normative model.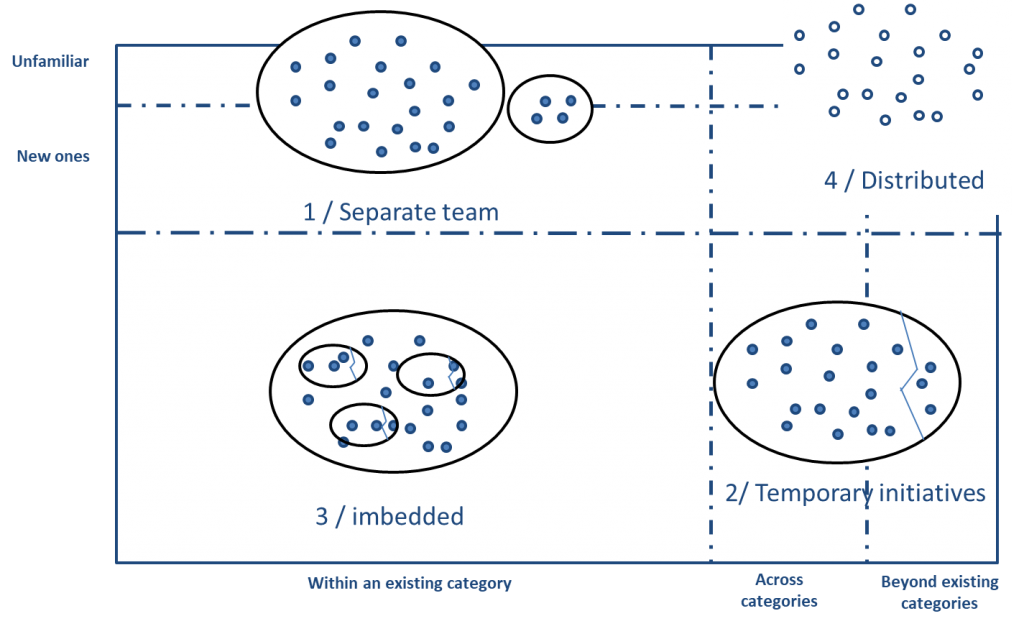 So, in the end what do we learn from this about structuring innovation activities in Purchasing?
Lesson one: Innovation needs to be everyone's job but should be managed in an efficient way at all levels, so people have both the autonomy and the required support to make it happen.
Lesson two: innovation requires making tough choices. Regularly, you need to take some of your best or most promising people out of their jobs to dedicate them to innovation initiatives. You need a continuous flow of talent that supports innovation.
Lesson three: your classic organisation cannot handle everything, it needs to continuously evolve, and you need to create flexibility by establishing special roles and teams that can match the business innovation imperatives as they appear.
Lessons four: Suppliers who are very different from established ones need to be treated with care. They might need special teams to help them deliver the best value.
Lesson five: Build on internal initiatives on innovation. This can be useful to access resources, dedicated funds and facilitation capabilities for instance. Also make sure that you keep some slack resources in Purchasing so you can anticipate and react to some changes.