Training Objectives
The Certification programme "Leading Purchasing Transformation" focuses on management and leadership capabilities, organisational aspects of purchasing as well as leading edge practices.
Strategy definition, organisation and team management are amongst the management issues covered in the programme. Leadership subjects include leadership styles, change management and communication.
Target Participants
The Certification programme "Leading Purchasing Transformation" targets Purchasing Executives leading a team of buyers or Senior Buyers with a solid purchasing background and aspiring to an executive position.
Pedagogy
This programme is delivered in 2 pedagogical modes: either in Flex or in Full Digital mode. Learning objectives, content, deliverables and Certificate are the same.
In the Full Digital Pedagogical mode, interactive virtual classes replace the 1-week face-to-face session of the Flex mode.
Our pedagogy ensures a successful transition from residential training to distance learning, by taking advantage of new technologies
This reduces the need to travel, whilst capitalising on EIPM's differentiating features: state-of-the-art content, a team spirit in each cohort, the development of the participants know-how and know-how-to-be and the delivery of an ambitious business project
FRAMEWORK PROGRAMME STEP-BY-STEP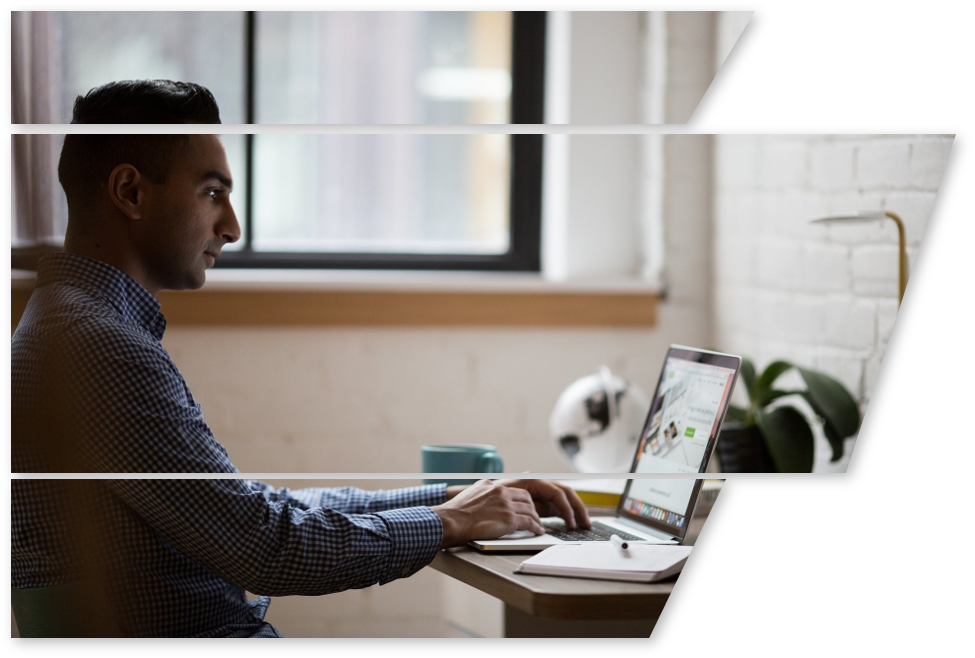 Step 1: Introductory
Webinar
A 1-hour webinar atthe outset of the programme to introduce the group and emphasise the upcoming steps and calendars
Step 2: Pre-readings
And Book
Participants will be provided with the book "5th generation Purchasing" that describes how purchasing can operate in a rapidly changing world to deliver both economic and innovation performance. The book describes six different work modes that allow to simultaneously anticipate and accelerate or to jointly explore and exploit opportunities. The book also contains multiple interviews from leaders that can help participants reflect on their own situation. Specific sections of the book are mandatory, so participants share a common vocabulary and  perspective when they get together.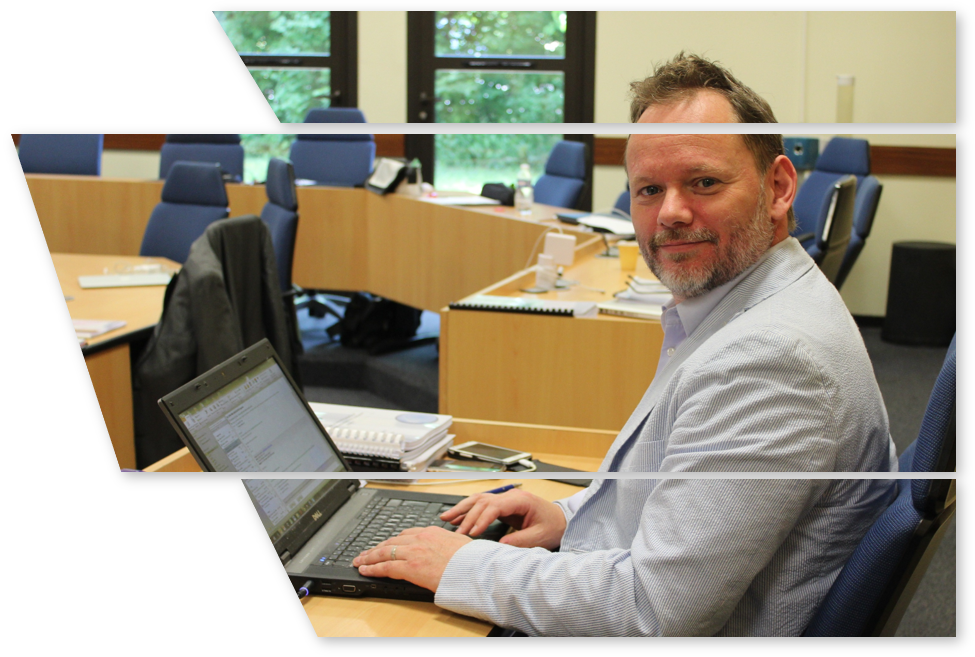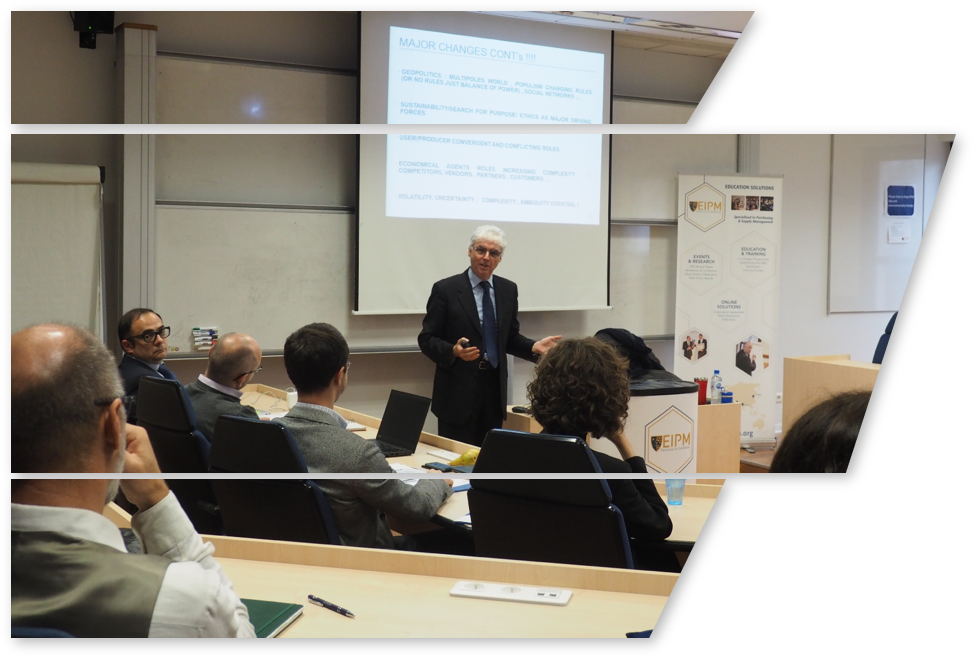 Step 3: Flex Format:
5 days of Face to Face
Full Digital Format:
Virtual Classes
On or Off-site
A 5-day interactive session focussed on students expression on Practices, Behaviour, Communication and Values
---
The plenary cohort session
Focus on know-how-to-do and know-how-to-be

The 5-day plenary session will allow participants to implement theory in actions, no longer focussing exclusively on the what, but rather on how and why: know-how-to-do and know-how- o-be.The goal is to concentrate on behaviour, communication, leadership and values, to coach participants to become the support for business. The F2F is built on integrative cases, games and testimonials from Executive guest speakers. Participants will also be invited to reflect on the outlines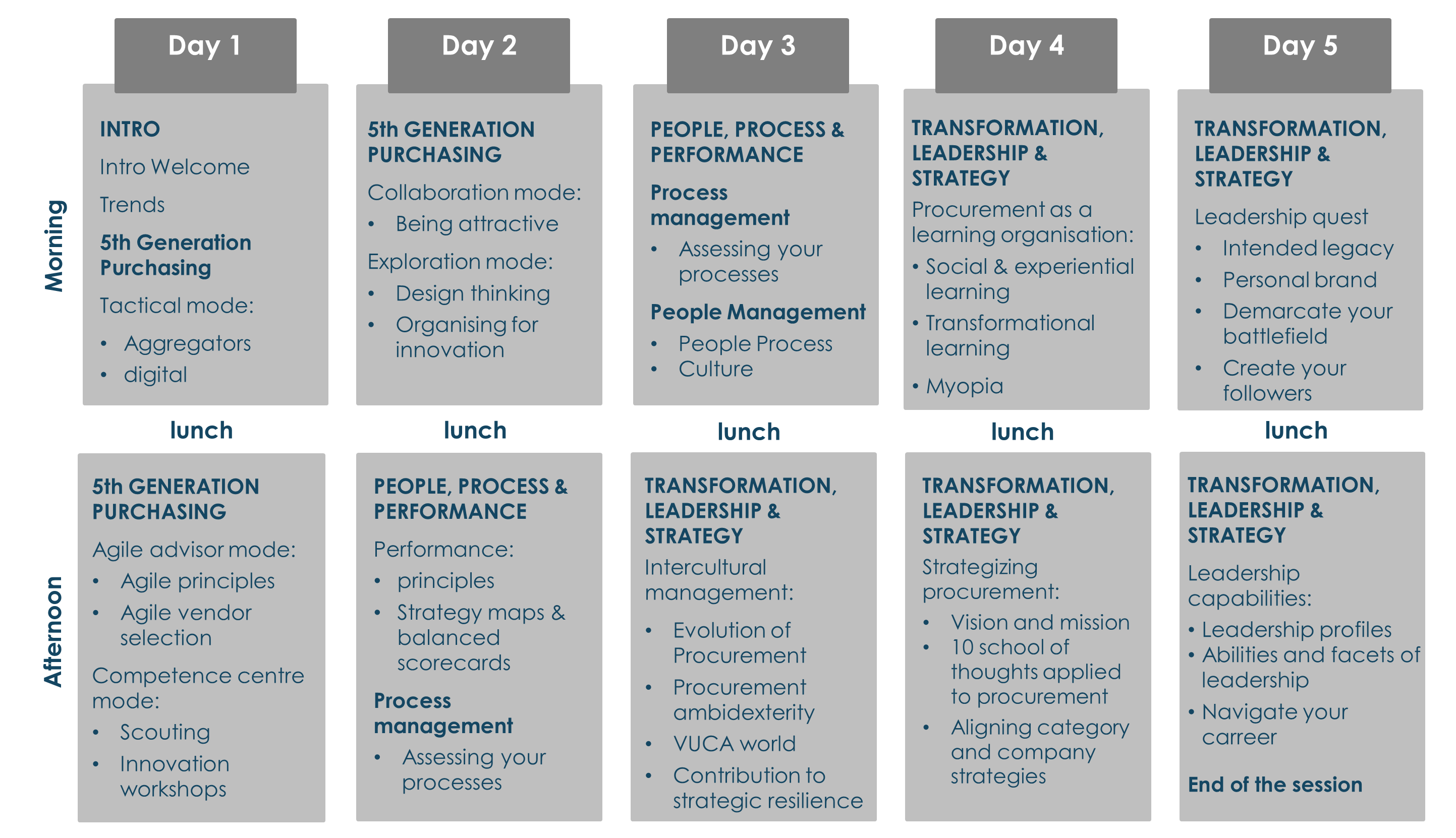 Step 4: Leadership
Sprints

Attributes a personalised digital learning path for each participant to fit their exact training needs. Each participant will run three leadership sprints. We offer two different options that can be mixed from one sprint to another.
Exploring new behaviours
Participants choose a value and a set of behaviours they want to cultivate over 6 weeks. They will be provided with a learning process that will get them to practice these behaviours and to reflect on themselves. They will develop a personal learning diary and share their learning with other participants during an online session.
Examples of values / behaviours:

◆ Fostering curiosity
◆ Getting to consensus on challenging decision
Exploring new practices
Participants choose a practice or areas of interest they want to further explore. They will develop an introduction plan over six weeks through a series of iterative internal and external interviews. They will develop a personal learning diary and share their learning with other participants during an online session.
Examples of practices:

◆ Agile vendor selection
◆ Sustainability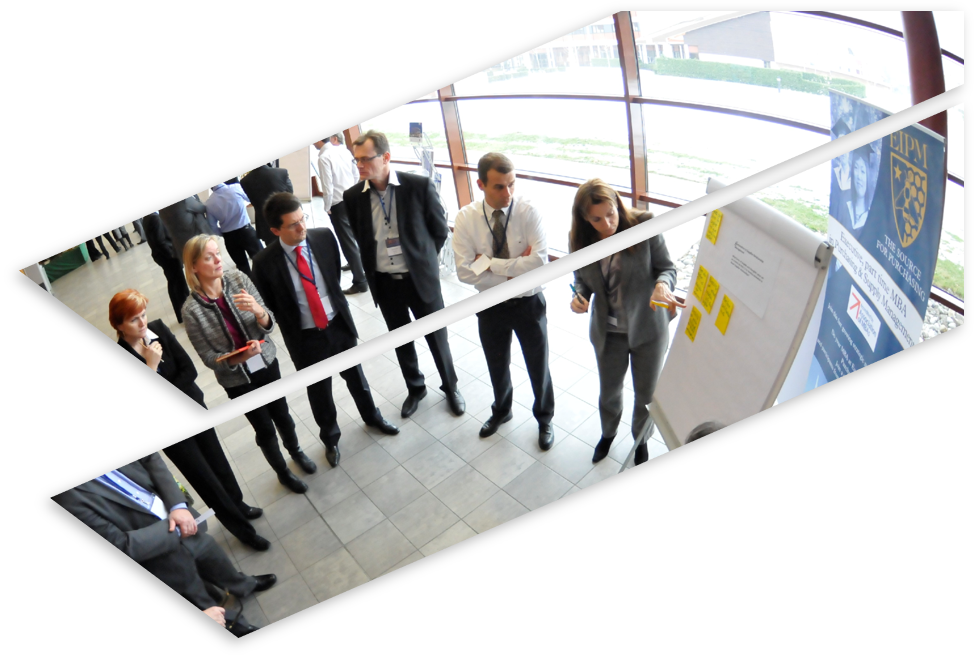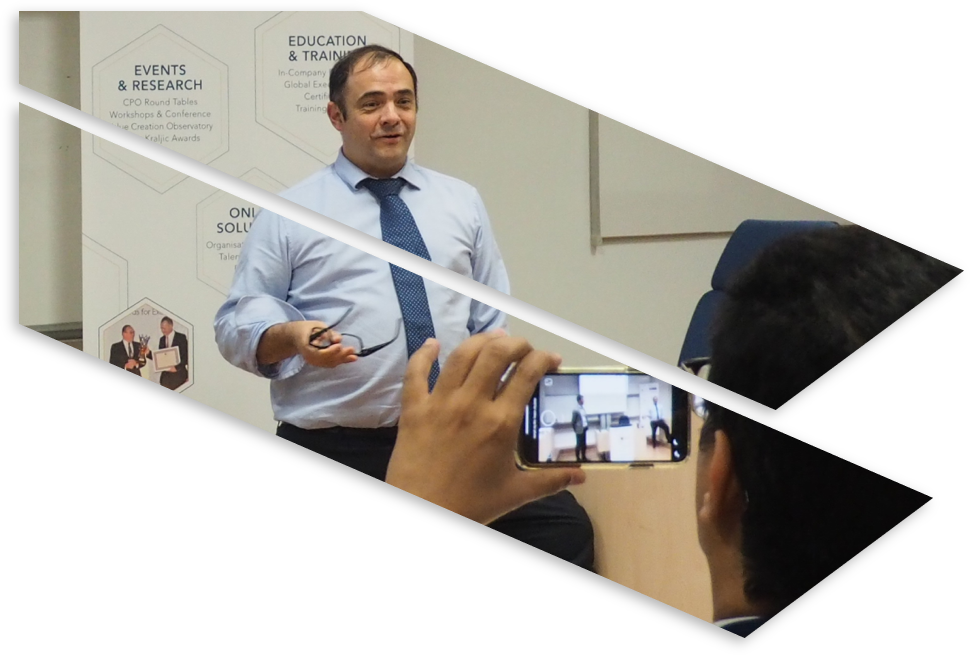 Step 5: Group Debates
& Discussions
Three discussions and exchanges will be organised, participants will be provided with an article on a general management topic. The articles are carefully selected to reflect current managerial challenges experienced in purchasing. Participants will reflect on the article prior to the session through a series of questions. During the online sessions discussions amongst them will be facilitated as a means to broaden the perspectives.

Example of themes:

◆ Managing conflicting demands
◆ Providing effective feedback
Step 6: Project
& Graduation
The objective of the final project is to bring measurable deliverables in implementing he different learnings (from theory to practice & tools). As with the previous 2 levels, the last step of the programme consists of a project which participants develop over a period of four months. The project subject selected by the participant will need to be approved by their management and accepted by EIPM. After acceptation, participants will be coached via webinar by EIPM experts. Projects will be presented to a jury for validation to obtain the Certification diploma.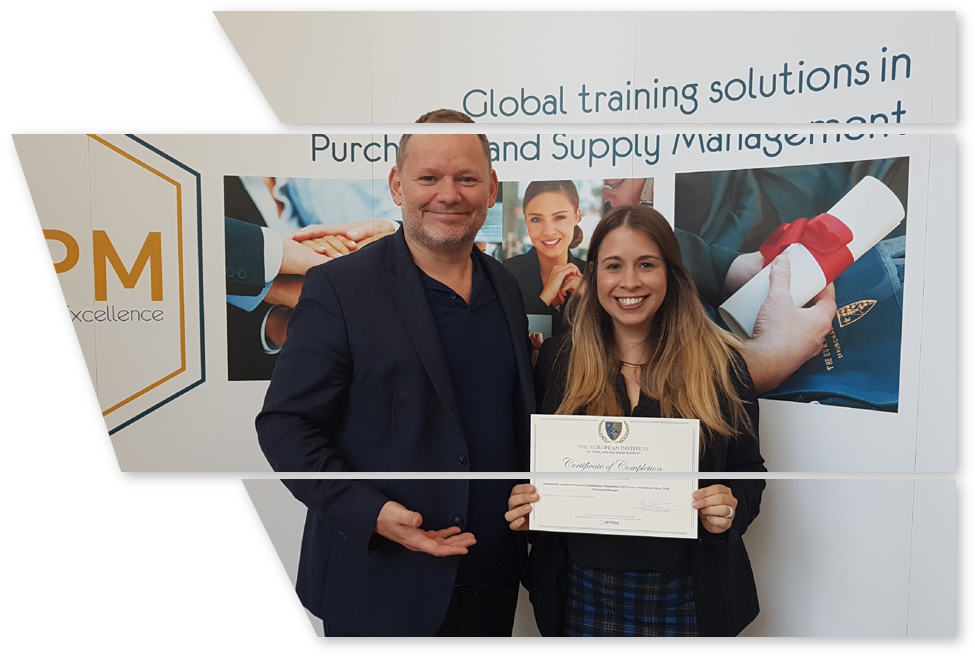 ADVISORY BOARD
Our Commitment to Quality Improvement
The EIPM Certification Programme are overseen by an Advisory Board comprised of Purchasing Executives from a good mix of industries, sectors and professional experiences.
The Advisory Board provides recommendation to EIPM to ensure full alignment with Purchasing & Supply Management leaders' expectations for the future.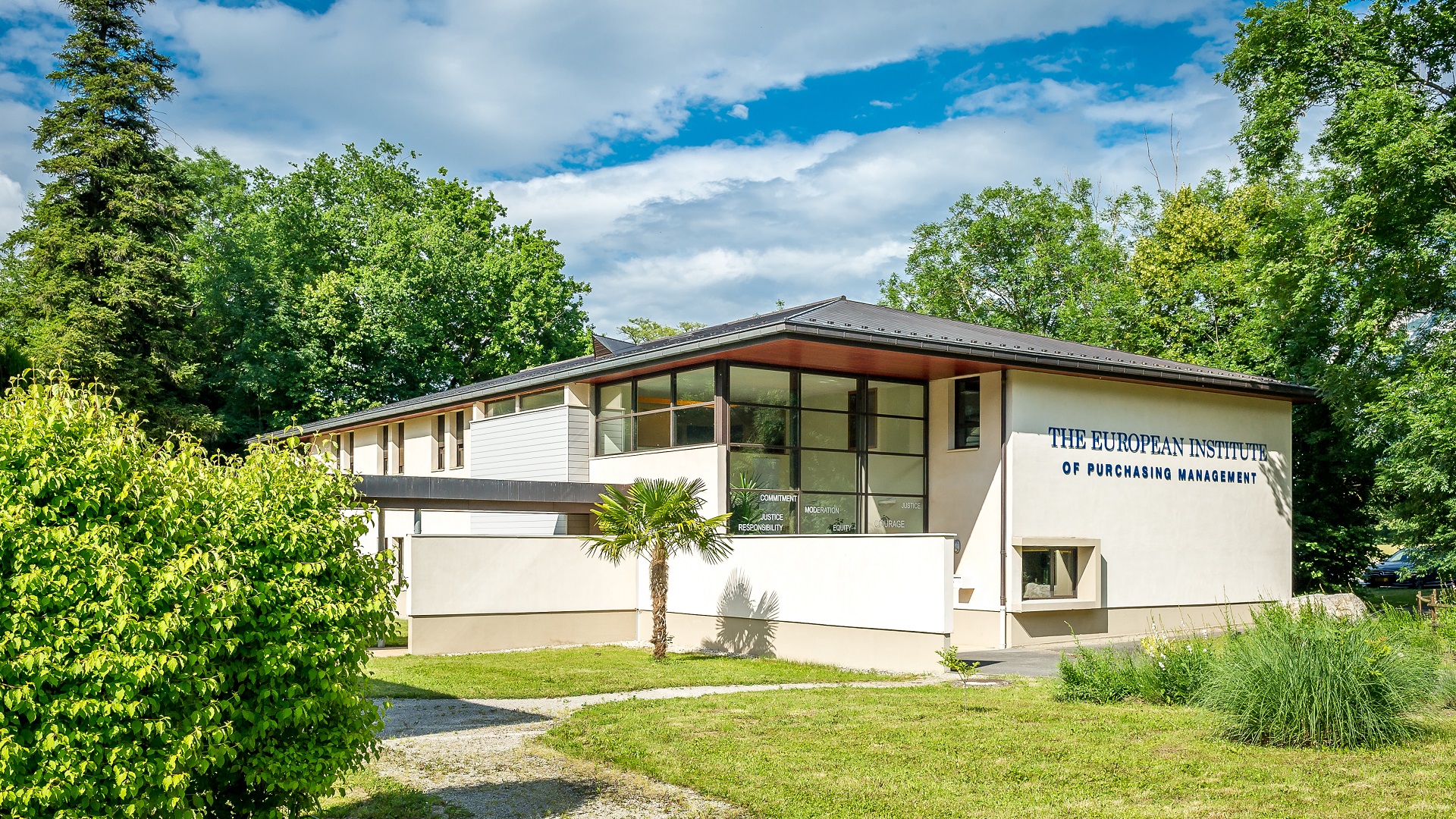 BENEFITS FOR PARTICIPANTS
Possibility to invest in your career development without jeopardising family-time with long absences and travel constraints
Flexibility to attend virtual classes according to workload
Individual learning pace respected, whilst still benefiting from the support of a group / being part of a cohort
The development of a project that can be implemented at work and will highlight the participant's commitment to the company
Valuable interaction and cross-fertilisation with an international group of fellow participants from different countries, cultures and sectors
A programme sized to personal knowledge – no time and effort lost on content already mastered
Access to an entire knowledge-based library with mandatory and elective content
Practical learning with a wide expertise well beyond functional Procurement (Knowledge, Know-How, Know-how-to-be)
Full availability of our worldwide purchasing experience with input and guidance from the EIPM experts and recognised business leaders
One full immersive week to work on real-life strategic challenges, led by top academics and executives
Challenging jury and rewarding diploma that recognises your capabilities, sharpens your status and assures a return on personal investment in training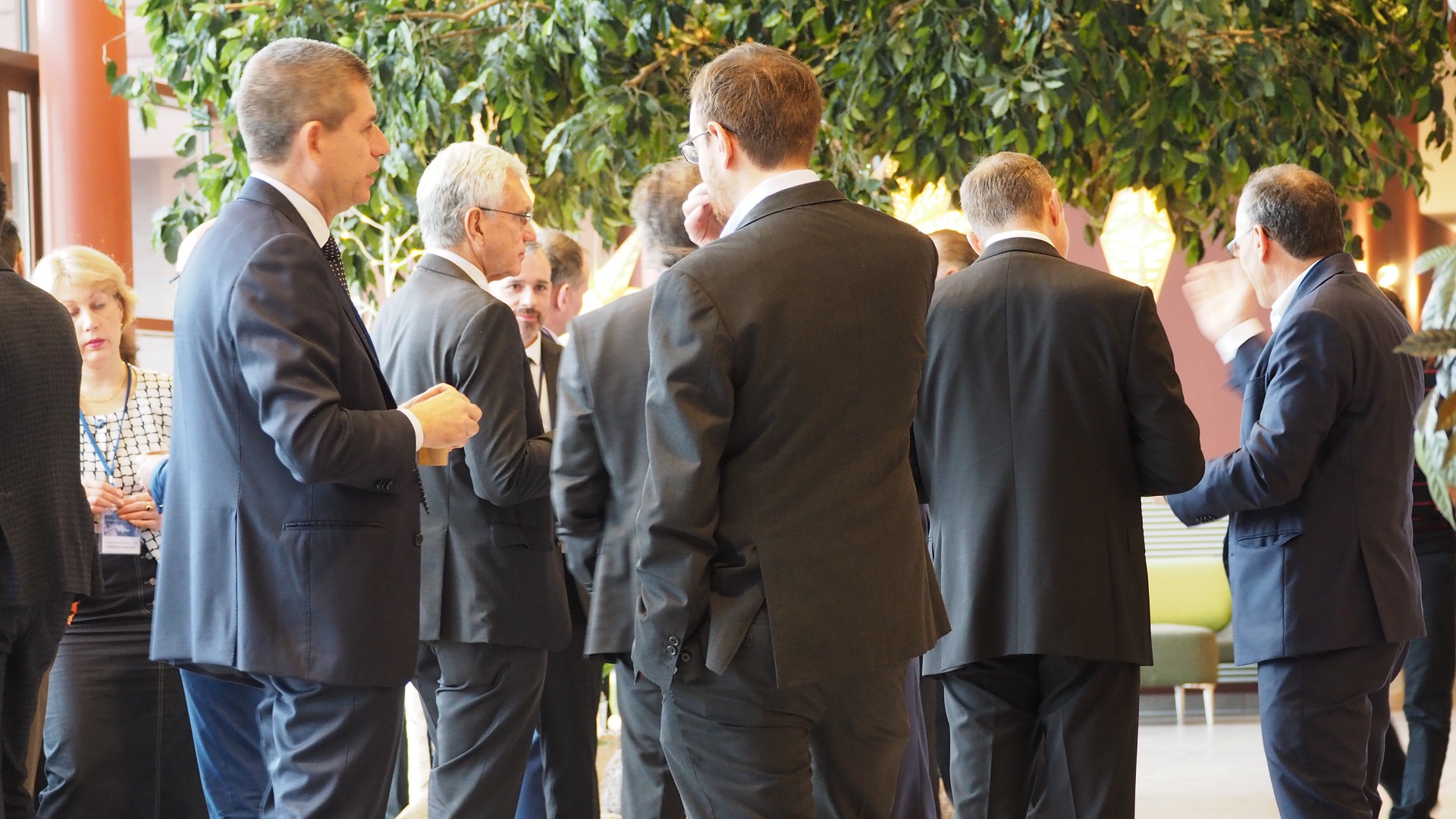 For Flex participants, there is only one week of face-to-face education while, for the Full Digital participants, there is no face to face session. This programme used to request three weeks of face to face leading to significant travel and accommodation costs.
Our pedagogy allows:
One week face-to-face instead of three (generating lower travel and hotel expenses)
Lower costs due to employee absence
Virtual classes allow employees to better balance workload and training
The development of a project which supports the business and will bring a solid ROI to the company
Knowledge transfer between employees and an international group of fellow participants from different countries, cultures and sectors
Innovative content that observes trends and confronts current challenges, issued from the EIPM Research
Practical learning with a wide expertise well beyond functional Procurement (Knowledge, Know-how, Know-how-to-be)
Opportunity to benchmark external best practices with input and guidance from the EIPM trainers and renowed business leaders
Challenging jury to make sure the diploma will bring a real impact into the company's performance
INVEST IN YOUR HIGH FLYERS!
Never underestimate the benefits of investing in your team's talent.
Equip your people with the right tools and frameworks to be more efficient on a daily basis!
Take a moment to consider your educational planning and in the evaluation and development of your potential.
Let's discuss how we can assist you to present your training ambitions to your management!