Archamps, 9th of December 2016
The 7th edition of the EIPM-Peter Kraljic Awards was celebrated yesterday, the 8th of December 2016, in Archamps, France.
The EIPM-Peter Kraljic Awards recognise Purchasing organisations across the world for their outstanding practices and for modelling the way forward.
The winners are elected by a jury chaired by Dr. Peter Kraljic and composed of industry leaders and purchasing experts as the outcome of a very detailed and fact based process. Companies are evaluated using the EIPM Maturity Assessment Tool based on the EFQM Business Excellence Model, followed by on-site audits for the finalists.
In this edition, recipients were recognized on the following categories: "Value Creation", "Innovation and Process Excellence", "Excellence in Supplier Integration", as well as the acknowledgement of remarkable overall performance for "The Organisation of the Year".
Winners were announced by Mr Bernard Gracia, EIPM Director, and the trophies were handed by Danijel Banek, Executive Director of Central Purchasing of Atlantic Grupa, the 2015 EIPM Peter-Kraljic Award Winner for Organisation of the Year and Gianluca Mulè, Director, Partners and Representative Offices at EFQM.
This year's winners are:
Value Creation – ABB DMRO Supply Units Supply Chain Management
Within ABB Robotics, SCM broadened its role significantly over the past years – this is a transformation for the company but also one part of a broader industry transformation. The long term benefits of this transformation are well charted and their progresses are conducted in a systematic and structured way.
Keywords:
Key player of a remarkable and rapid transformation
Outstanding impact on the company total cost
Innovative processes to support growth
Product modularity approach
Excellence in Supplier Integration – TOYOTA Motor Europe Purchasing Division
Toyota Motor Europe (TME) purchasing organization offers some excellent and distinctive features. Its strategy implementation process is a thorough policy deployment process focused on how to get things rather than a brutal target attribution process. Their PDCA logic is applied and delivers learning and improvement that are communicated effectively. The Toyota way is a professional fair and mature approach where the focus is on sharing and solving problems together with suppliers. Openness, trust are lived on a daily basis in collaborations with suppliers at TME.
Keywords:
Collaboration for rapid ramp-up
Openness and trust
"Bad news" first
E.A.M (Toyota European Association of Manufacturers)
Fair competition, mutual benefits, contribution to local economies
Call for Innovative & successful solutions
Innovation and Process Excellence – CERN Procurement and Industrial Services
CERN Procurement has implemented a solid procurement process, which educates stakeholders on how to best contribute to the procurement activities. It makes the future needs of CERN highly visible to industry players through different mechanisms such as industry days. CERN is a very attractive customer for many suppliers and working with CERN provides significant innovation opportunities to suppliers.
Keywords:
Solid procurement processes
Education of stakeholders
Marketing future 5-10 years needs to industry & technology players
Industry days across member states
Innovation return
The Organisation of the Year – ESSILOR Global Sourcing and Procurement Organisation
The Organisation of the Year award acknowledges a remarkable overall performance.
Essilor GSP excels on their focus on stakeholders, innovation and entrepreneurship. Their scope of responsibility goes well beyond traditional procurement activities and includes establishing joint ventures and business focus activities.  The human values demonstrated by the Purchasing team form an asset in an environment where collaboration will be essential.
Keywords:
Integration with internal partners
"Community" and Talent Management
Budget process with business unit
Collaborative relationships with suppliers
Innovation & sustainability
Staff involvement in CSR programmes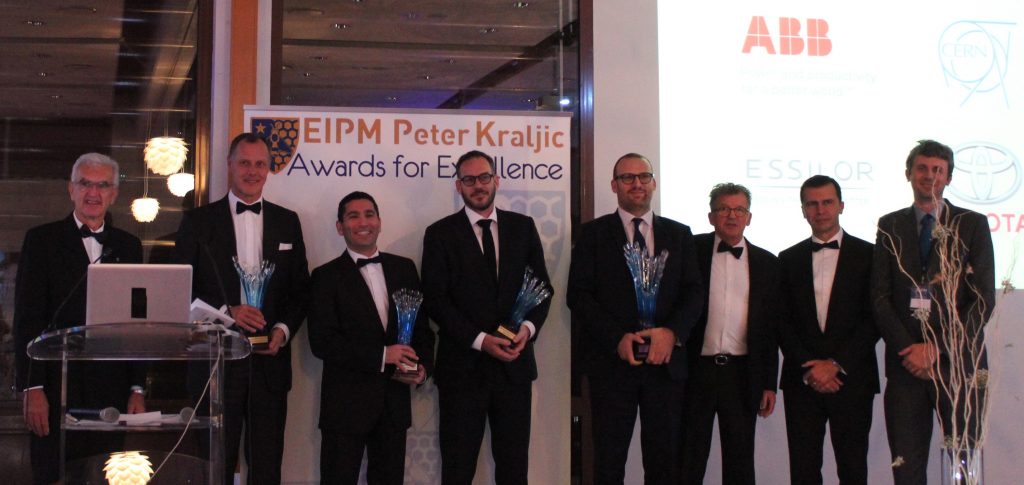 In the photo from left to right:
Christian Kaemmerlen from EIPM; Anders Unnervik from CERN Procurement and Industrial Services; Ibrahim Gurun from Toyota Motor Europe Purchasing Division; Fabrice Thomas from ABB DMRO Supply Units Supply Chain Management; Aurélien Rothstein from ESSILOR Global Sourcing and Procurement Organisation; Bernard Gracia from EIPM; Danijel Banek from Atlantic Grupa and Gianluca Mule from EFQM.